Lord Nelson's Gallery and the Inspiration Behind "Eyes of the Forest" Sculpture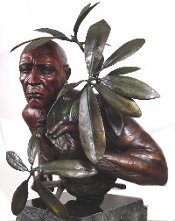 Starting at the beginning, here is a little background history on the inspiration behind Eyes of the Forest, and so much more.
In 2002, Wayne was enjoying the company of the many people meeting at Lord Nelson's Gallery in Gettysburg, P.A., where art was focused on historical depictions of the early settlement along the eastern seaboard and inland. The Seven Years War, also known as the French and Indian War, was the main time period being researched, discussed and ultimately depicted in many art forms, from exquisite accoutrements, furniture, household items, authentic tradebead jewellery, books, redware pottery, weaponry and quillwork to fine oil paintings, prints and bronze sculpture.
The "people" met at Lord Nelson's because the owners, George Lower and Philippe Du Bois had created an unofficial but intensely rewarding "club" atmosphere open to all lovers of history of that time period. They included fine artists such as Robert Griffing, John Buxton, David Wright, Pamela and Bryant White, John Weiss, Dean Morrissey, Heide Presse, Todd Price, and Doug Hall. The "people" also included artisans such as the famous House brothers, gun and knife makers, Lally House, fine quillworker, Selinda Kennedy,  redware pottery, John Barrett, Wayne Watson, Steve and Sue Shroyer, accoutrements and weapons,  and, bronze artist Wayne Hyde.  Many more fine artists and artisans have been included along the way. Finally, the people also included historians, amateur historians, re-enactors, authors and many repeat visitors who were readily welcomed and became part of this "club"; more often than not becoming collectors of the art presented.
In 2017, Lord Nelson's Gallery celebrated 20 years of presenting their annual History Meets the Arts Show and Sale which once again brought together most of the above mentioned people and all welcomed newcomers. It became like a family reunion over the years, within this unique club of friendship and caring; a place where we would all meet, talk, reminisce and inspire each other.  It became a place of support in bereavement, illness, hard times and a place of shared joy in marriages, births of children and grandchildren plus individual achievements and successes.  A truly unique experience; open to all who wish to enjoy it.
I know, because I am one of those people whose life has been enriched by the art, the learning, the unique historic atmosphere and the kindness among such talent and such kindred souls.  I have my "forever treasures" purchased at the Gallery through the years, and carrying warm memories with each one – and, I will return to recharge my spirit and perhaps inspire others during our many commiserations.
Lord Nelson's is a special place and one which is well worth visiting, especially during the History Meets the Arts Show and Sale, next taking place on June 8, 9 and 10th, 2018. Truly, a "must see."
Now to look back at the inspiration behind Wayne's most recognized sculpture, Eyes of the Forest. (as seen above and at the top of every page on this site)
For an artist to be immersed in a visual, cultural and educational setting such as described above, it is not surprising for the artist to want to learn more, show more and use their talents to create an historical vignette in their own medium.
Wayne was inspired to create a powerful likeness of an Eastern Woodland warrior prepared for battle; and this he did. The next post describes the details of this magnificent life size bronze bust and the messages it is sending the viewers.